iPaaS: What Is Integration Platform as a Service?
Integration-Platform-as-a-Service (iPaaS) is a cloud service that allows applications and platforms to communicate and exchange data and documents. iPaaS simplifies and standardizes integration between otherwise incompatible platforms, allowing businesses to automate the flow of data within their organization between external organizations without the need to manage hardware or carry out expensive custom development work.
As a part of managed cloud services, the software and hardware of iPaaS are managed by the vendor, radically simplifying the process of integration and automation. iPaaS has been a game-changer for an increasing number of companies around the world, so partnering with the right integration platform provider is critical.
The Stats On iPaaS
iPaaS adoption and cloud integration have increased in recent years. According to Gartner, iPaaS is one of the fastest-growing enterprise software market segments. The growth of integration platform as a service is fueled by the need for businesses that have embraced digital solutions to generate cost savings and increase operational efficiency through integration solutions and automation.
For example, in the B2B space, iPaaS platforms facilitate the data integration of supplier eCommerce systems with buyer back-end eProcurement and spend management platforms. Once integrated via a cloud iPaaS platform, B2B buyers and suppliers benefit from a host of integration flows that include PunchOut catalogs, Purchase Order Automation, Invoice Automation, and more. This allows business processes to be much more streamlined for business users.
How Does iPaaS Facilitate Integration and Automation?
Modern businesses rely on multiple applications and services. A typical business uses a variety of Software-as-a-Service (SaaS) applications, self-hosted applications, data storage platforms, and communication/collaboration platforms for their business processes. 20.4% of global retail sales are happening through eCommerce – a 10% increase from just five years ago – more companies are utilizing the benefits of SaaS applications. And with eProcurement solutions constantly evolving, these technologies are sure to see continued growth into the future.
These applications and platforms digitize business operations, increasing efficiency and transparency. They also provide user interfaces that encourage employees to follow best practices and policies such as controlled spend management. The fast and demanding growth of eCommerce and integration solutions have given businesses a lot to manage and maintain, so the need for iPaaS vendors and trusted iPaaS solutions help growing businesses capitalize on their success.
iPaaS Benefits
But one of the most significant potential benefits of digitization is automation. An iPaaS provider can enable data integration flows from one application or platform to another without manual intervention.
A purchase order created by a buyer can appear in the vendor's eCommerce interface almost instantly for the order to be fulfilled. Then, it is possible for an invoice to be automatically created and sent back to the buyer's eProcurement or spend management solution once products have been shipped and received.
The need to develop integration flows is not only important for business processes but having more data integration also creates better visibility within the organization – avoiding the danger of data silos, which operate to isolate data processes and management from the rest of the company.
Data Integration Challenges
Although deeper integration is the goal, this level of application integration and automation has proven to be challenging and expensive for businesses to implement internally. The number of possible integration points multiplies. IT teams lack the resources and expertise to build and maintain these integrations, leading to expensive custom integrations that need to be scaled often and hours on end spent.
Consider how many integrations a mid-sized B2B supplier would have to develop to accommodate hundreds of buyers that use dozens of different eProcurement solutions. In some cases, this can require up to 2-3 FTEs to focus on when they could be freed up to work on other important business tasks.
The more complex integrations and complicated business logic are involved, the harder it can be for companies to secure the buy-in they need to adapt and fully modernize. Although the need for iPaaS, cloud integration and cloud environments adoption is becoming more and more necessary to keep up with the ever-changing eCommerce industry, the heavy lift that this can present on the technological side can present a potential blocker.
iPaaS Reduces Integration Cost and Complexity
Integration platform solutions offer a managed cloud platform capable of consuming data from a variety of platforms and converting it to a format that is compatible with other platforms.
An organization that wants to integrate its software with the software of other organizations needs only to integrate once with the iPaaS. Then, the iPaaS vendor takes care of mapping and transforming data, communicating with APIs, implementing business rules, and any software development and hardware management required for the integration layer.
With platform as a service, what you get is truly in the name – the same level of service that can be expected from other SaaS applications. iPaaS vendors streamline data flow with leading integration functionality. The integration platform developed by the iPaaS provider provides a bridge between multiple systems and will put in the work that's needed to maintain integrations between systems.
While the platform reduces the scope of the problem, there remains the challenge of building an integration between an organization's software and the cloud iPaaS service. Leading iPaaS providers make integration more straightforward by providing a suite of connectors that reduce the complexity of integration. The upfront cost and effort of modern iPaaS solutions may seem daunting, but eliminating data silos, manual processes, rogue spending, and other problematic user behaviors are often worth the input for many eCommerce companies.
For example, TradeCentric, a specialist iPaaS for B2B buyers and suppliers, offers the ability to simply integrate data with hundreds of eCommerce, eProcurement, spend management, and enterprise resource planning applications. TradeCentric's pre-built connectors allow sellers to quickly and easily hook their eCommerce platforms up to TradeCentric's iPaaS without custom development. TradeCentric has pre-built integrations for Adobe Commerce Cloud (Magento), Salesforce Commerce Cloud, Coupa, Jaggaer, and many more.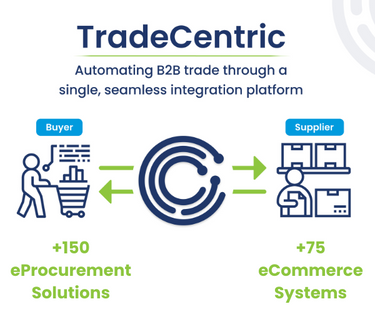 Managed Services are an important part of any iPaaS offering. In addition to providing the cloud environments that handle the flow of data between applications, the iPaaS solutions experts are needed to take care of implementing the integration between endpoint applications.
In the case of TradeCentric, a Professional Services team full of expert developers and project managers facilitate the integrations between clients and their buyers or suppliers, providing guidance and technical support for both sides of the transaction.
What Should Businesses Expect From iPaaS?
Businesses have long been interested in integration and automation. Over the years, many cloud integration solutions that aim to enable or simplify integration have been proposed, but, although useful in their way, they suffer from limitations that modern iPaaS platforms do not.
Let's look at five features that businesses should expect to see in an effective and reliable iPaaS platform.
A comprehensive selection of connectors. Ideally, an iPaaS, or platform as a service, should be able to accommodate the broadest possible number of applications and platforms within the niche it serves. iPaaS solutions should support all of the most popular applications and platforms within a niche and be capable of transferring and translating the full range of relevant digital files and other data supported by those platforms. Even if a pre-built connector does not exist, a best-in-class iPaaS provider should be agile enough to perform custom integrations where needed to leverage an organization's existing technology.
Partner enablement and management. Inter-organizational integrations—between B2B buyers and suppliers, for example—depend on a three-way relationship between the organizations seeking integration and the iPaaS provider. Typically, the relationship is initiated by one party, and the iPaaS vendor should be able to rapidly onboard the partner organization and integrate efficiently with the other business on the partner's behalf.
Enterprise application integration. An iPaaS solution offers a useful waypoint as data travels between platforms and organizations. iPaaS should be able to act as a "quarantine zone" that checks data quality and alerts partners to anomalies. Without this functionality, it is challenging to monitor the quality of data and diagnose issues. For example, TradeCentric offers a client portal that gives 100 percent visibility into business analytics of data between systems, along with the only integration emulator capable of testing and validating different integration scenarios.
Advanced analytics. Large amounts of data pass through an iPaaS, presenting an opportunity for end-to-end visibility that would be difficult to achieve using other sources. An iPaaS vendor should provide analytics tools that businesses can use to improve decision-making and insight into their relationships with partners.
Scalability. As the volume and velocity of data that your business communicates to partners grow, the iPaaS must be able to scale in line with the needs of its users. Reliable scaling is essential because integration latencies can introduce significant delays in data communication and the business processes that depend on it. In the B2B space, top iPaaS providers should be able to take a single connection with one company, and branch out to as many trading partners as needed, making it efficient to scale up and foster new business relationships.
How TradeCentric Can Help
TradeCentric provides a specialized iPaaS solution focused on integrating B2B eCommerce systems and eProcurement/ERP solutions. We connect 75+ leading eCommerce systems with 150+ leading eProcurement solutions for PunchOut Catalogs, Purchase Order Automation, Invoice Automation, and more.