CIF Catalog vs PunchOut: The Definitive Comparison Guide
Strategic buyers and suppliers need business continuity without sacrificing time or overcomplicating the B2B transaction process. The road to creating a modern, mutually cost-effective procurement process often comes down to which catalog format is used. Understanding the similarities and differences between a CIF catalog and a PunchOut catalog can make all the difference in making creating more seamless buying experience and higher volume selling opportunities across multiple customers.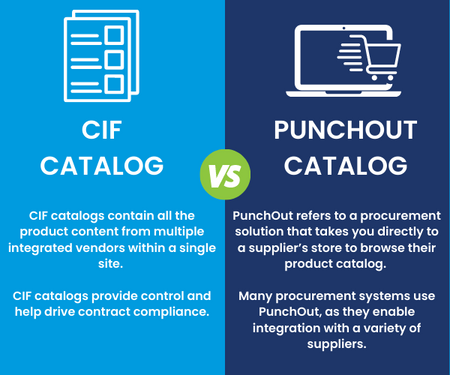 What are CIF Catalogs?
Also referred to as a hosted catalog, Catalog Interchange Format (CIF) file can help customers find and choose from a list of simple products and services in a way that will streamline the pricing, manufacturer, inventory and other business-critical data.
Unlike a PunchOut catalog, where multiple changes such as updates to product descriptions, item descriptions, unit price, and other line data can be made in real-time, a CIF catalog file must be reloaded into your eCommerce website every time a change is made. This can cause significant delays for a complex electronic catalog, meaning a CIF catalog is realistically a viable solution only when catalogs are updated a few times a year or less.
What are PunchOut Catalogs?
A PunchOut catalog enables real-time product, pricing and availability information to buyers. PunchOut technology integrates procurement software directly with a supplier's eCommerce website, allowing contacts at a buyer company to search and browse an interface that is customized with their negotiated pricing.
Choosing Between a CIF Catalog or PunchOut Catalog: Important Considerations
Here are key features of both formats to help you make the best decision for your business:
Catalog interchange format is not a compatible file format for every procurement system, whereas PunchOut can be linked to multiple procurement solutions
CIF catalogs lack the capability for customization, increasing the probability that key product information may be outdated and the likelihood of errors within the procurement process
A PunchOut catalog provides a more seamless experience and less taxing on the buyer as the maintenance falls on the supplier
CIF catalogs offer limited opportunity for cross-selling, which can adversely impact average order volume
Using a CIF Catalog
A CIF catalog works well for suppliers who operate on a smaller scale with less catalog data products to upload. If you find that your products and information don't change much throughout the year, a CIF catalog may be right for your business. However, having to create different CIF catalogs for each customer can quickly become a cumbersome process.
While CIF catalogs are visually more basic, oftentimes displayed in CSV format, they allow companies to compare one year's catalog to the next. This allows buyers to compare trends over time.
Using a PunchOut Catalog
PunchOut catalogs are one of the most modern advancements for procurement and B2B buying. Most often used for larger catalogs or products that require frequent updates, a PunchOut integration gives suppliers the ability to:
Update product descriptions and provide real-time data
Ensure up-to-date inventory levels according to changes in the supply chain
Connect to the procurement solution of new customers and existing customers along with B2B connected commerce solutions
Eliminate manual processing of data and reduce order errors
By acting as a layer between a buyer procurement system and a supplier eCommerce site, a PunchOut integration can improve the procurement processes for both the buyer and the supplier. PunchOut catalogs facilitated via B2B connected commerce can give suppliers a competitive advantage and create stronger trading partner relationships.
Which Catalog is Right For You?
PunchOut catalogs are the future of B2B transactions. They are a better fit for the procurement process – especially if you sell or buy in large quantities with various trading partners.
Additionally, if you have catalogs with thousands of SKUs and line items or customized items; products that require regular updates on price, description, and availability; or have a high number of transactions, a PunchOut catalog is the best route.